How to Pour Resin into Molds
Mar 10, 2022 by Giftboxxes
Regardless of the type of project you want to make, there are some basic tools.
you'll need.
Silicone resin molds
Resin and hardener
Gloves
Wooden sticks
Graduated measuring cups
Mica powder or glow in the dark pigments
Dust cover (to protect molds)
Wax paper
Hairdryer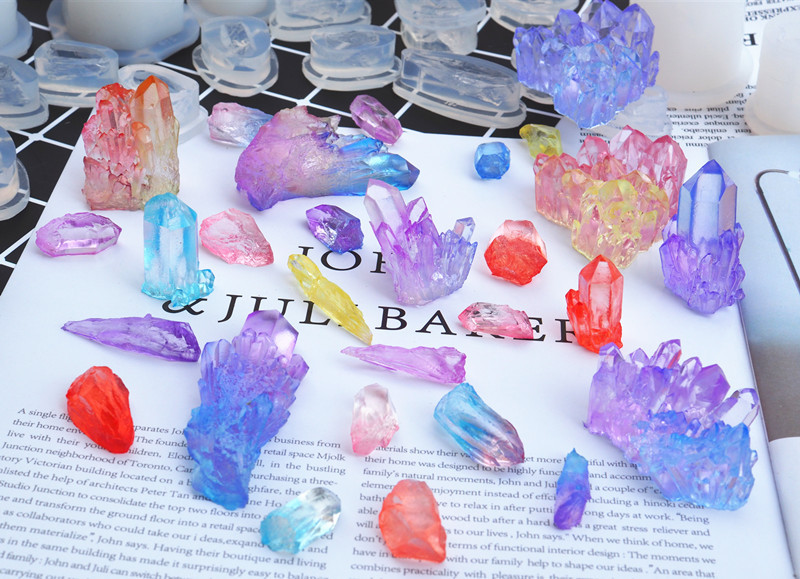 Step 1: Prepare the molds and the working area.
Cover the workspace with wax paper so resin doesn't stick to it. Wash the silicone molds with water (it needs proper washing as silicone is a material that gathers a lot of dust and other particles). Leave them to dry on a napkin. Also, make sure the room you're working in is well-ventilated, and always wear a mask, goggles, and gloves.
Step 2: Start mixing.
Measure equal parts of resin and hardener (as indicated by the manufacturer) in the measuring cups and mix them with a clean stir stick. The mixing time required may differ from brand to brand. That's why it's essential to read all the instructions carefully on the label. At this stage, you can also incorporate the pigments. You can choose to add one, two, or even more colors. The secret to obtaining a striking color is to stir until the dyes are fully dissolved.
Step 3: Pour the composition into the molds.
With the wooden stick, scrape the resin into the molds and don't hesitate to apply a second or subsequent layer of epoxy until the casting reaches your desired volume. In order to avoid sanding between pours, subsequent pours must be applied when the previous ones have cured to a tacky stage. Let it harden perfectly before adding or sanding the topcoat.
Step 4. Pop out your works of art.
Peel the mold away carefully. Don't use anything sharp because it might scratch
your object. If the resin gets stuck to the mold, the right thing to do is to use a mold release agent.
Step 5. Wash your mold.
The better you take care of your molds, the longer they will last. After each use,
the molds must be cleaned with water and soap and stored away from heat and
sunlight.